NDLEA Holds Heads of Anti-Narcotic Bodies in Abuja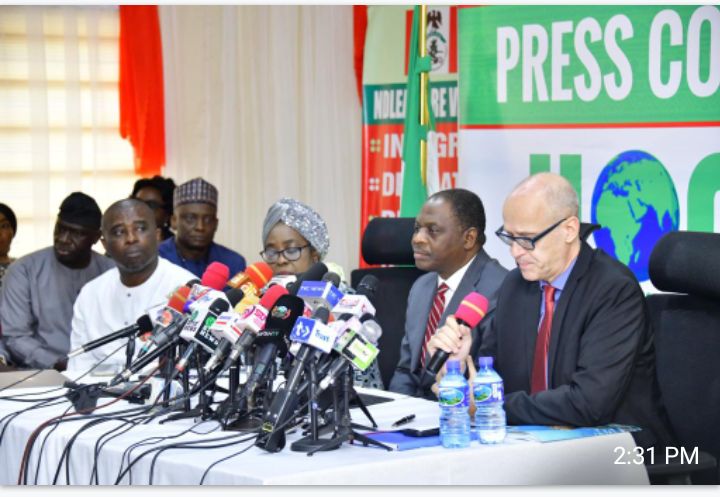 By Linda Ike
The National Drugs Law Enforcement Agency ( NDLEA) said it's set to host the 31st meeting of Heads of National Drug Law Enforcement Agencies, Africa (HONLAF).
NDLEA said Delegates from 54 African countries and 15 Observer Nations will next week converge in Abuja for the meeting to discuss new trends and partnerships to curb the global drug scourge.
Chairman/Chief Executive Officer of the Agency, Mohammed Buba Marwa disclosed this on Tuesday at a joint press briefing by NDLEA and United Nations Office on Drugs and Crime (UNODC) in Abuja.
Marwa who was represented by the Secretary to NDLEA, Shadrach Haruna stated that the conference, which will hold between Tuesday, September 26 and Friday September 29, 2023 is to enable heads of drug law enforcement agencies in Africa to discuss and develop strategies to combat drug trafficking and abuse in the region as well as provide opportunities for bilateral meetings on the sidelines of the main agenda.
"The HONLAF meeting is an annual event. The last one was held in Nairobi, Kenya, where Nigeria was unanimously elected as the host of the 31st edition, which will take place from Tuesday, September 26 to Friday, September 29, 2023 in Abuja.
"This annual HONLAF meeting features a line-up of activities that include technical meetings, paper presentations, deliberations on reports and trends, workshops, and bilateral talks among member nations. It is a platform for brokering collaborations in the areas of shared intelligence, joint training, and joint operations against international drug cartels in the African region." He said.
According to him, top on their agenda will be discussions and collaborations on alternative development to cannabis cultivation, assets forfeiture, cryptocurrency and money laundering by drug cartels, among others.
In his remark, the Country Representative of the United Nations Office on Drugs and Crime, UNODC, Oliver Stolpe said the HONLAF meeting will also focus on "regional and national cooperation to reduce illicit production and cultivation of illicit drugs, something that has been observed.
He added that the opening ceremony of the HONLAF meeting, will equally afford UNODC and the National Institute of Security Studies to present a report on organized crime trends that constitute threat to Nigeria.
"There will also be discussion on alternative development, an approach promoted by many countries; financial investigation in drug trafficking cases and the role of cryptocurrency in drug trafficking cases, and money laundering. It's safe to say NDLEA has made great strides to confiscate the money and proceeds of drug crime. We'll also look at how to follow the money and seize the immense riches accumulated in the drug trade."
According to them, the 31st meeting of HONLAF, a subsidiary body of the United Nations Commission on Narcotic Drugs (UNCND) will be declared open by President Bola Tinubu , who is also expected to deliver the keynote address.
Attorney General of the Federation, Minister of Justices, among others will be at the opening ceremony.