Nigerian MP Reacts Over Claims Of 29.5 Million Food Emergency Needs In Africa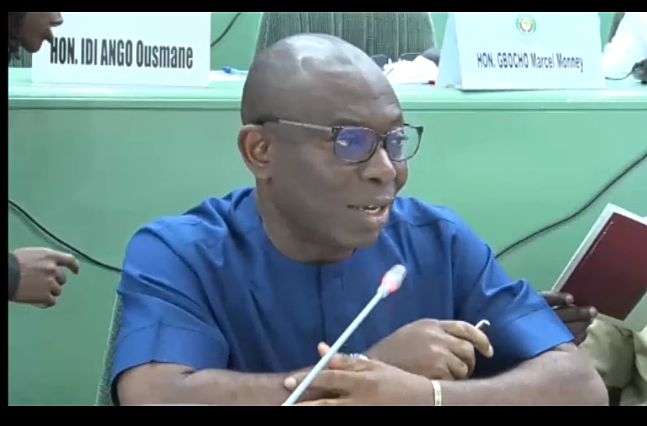 By Linda Ike
Nigerian member of the Economic Community of West African States (ECOWAS) Parliament, Hon. Awaji- Inombek Abiante has reacted to claims that about 29.5 million people in the African region are in need of emergency food and nutritional assistance.
Abiante who questioned some of the issues raised by the president of the ECOWAS Commission over hunger and production in the member states said the region is known for export and has fueled industrial revolution of Europe.
He added that member states have pitched mechanisation to improve production in the region.
It will recall that the President of the ECOWAS Commission, Omar Touray, had in his presentation of the commission's 2023 work plan at the first ordinary session of the ECOWAS Parliament in Abuja, said about 29.5 million people in the region need emergency food and nutritional assistance, adding that if appropriate measures are not taken, the figure could rise to 42.5 million people between June and August 2023.
Reacting to the presentation, Abiante expressed worry why Africa should go back to its reserves when there is no war, insisting that until the real cause of the challenges are identified and tackled, it would be difficult to get it right.
He said, "Mr. President of commission, in your presentation, you mentioned that there has been good production, I take that good production as relative to our agricultural concern or concerns towards solving the challenge of food security or food insecurity,
"If there has been good production for what you have said and stated here, I begin to wonder why we have to get back to our reserves when we are not at war.
'I also begin to imagine why we have greater number of persons at risk of food insecurity, I am not talking about nutritional crises, I am talking about food insecurity because there is a different. In nutritional crises, you have food but not delivering as it supposed to be delivered, but in food insecurity, it is not just there.
"In trying to solve this problem, you are given credit to international partners, my understanding of this is that without international partners, probably, everybody would have be going hungry but this is a region before now that is known for export. We fuel the industrial revolution of Europe." He stated.
"You have also not be able to tell us in clear figures, where the challenges lie. Are we losing the areas we have been able to cultivate? If yes, what is the percentage? Is it because of climate change that we have lost 10 percent or lack of interest? We have pitched mechanisation to improve our agricultural productions. How much of that have we achieved?" Abiante questioned.
The Lawmaker also argued about the direct elections and the possibility of achieving it in the region.
He said, "We have been talking of direct election, as wonderful as it sounds, as good as it looks, how do you achieve direct elections while in some states, issues as simple as tenure is not respected?
"How do you achieve direct election, when constitutions are changed in the middle of terms to guarantee that a particular government continues forever?
"If there is direct election, and such characters hate the institution, is it not also possible that effects could be transfered unto this to extend that attempt and ensure it will never be respected? It is a concern for me".
"We have applauded the relationship we had with especially the parliament.
As wonderful as it, I don't think it should be encouraged to the point where we relent our direct responsibilities.
"It's not expected that parliament will leave their house and go and sit in their neighbours house. We should show example of good governance. We cannot hold others accountable while we are not accountable to ourselves.
"The relationship should be good, but next time, President of Commission Sir, if parliament should.come seeking for this venue, please reject it So that we can sit under the mango tree to enable us put our house to order." He requested.
Recall that the 2023 first ordinary session of the ECOWAS parliament was held at the ECOWAS Commission Abuja, with few activities at the parliament.
Abiante also cautioned ECOWAS Commission to avoid interfering with the parliament's responsibilities, especially the direct youth empowerment.
He said, "l begin to wonder if commission is intending to take over direct responsibility of things or it is just to be a coordinating commission or a commission that interferes with individuals, urge them to deliver the best they can deliver to members of their environment, because if you talk about direct distribution, it means there is no synergy in getting the various states to do what they should do.
"Then if there is synergy, what is the level of interconnectivity between the commission and various states? If there is a challenge, where is the weakest point? So that parliament of various states or stations will know exactly how to write to the organisatíons, now we begin to believe that ECOWAS commission will do direct empowerment that was raised.