N4trn lost to sit-at-home order in S/East in 2 years– Kalu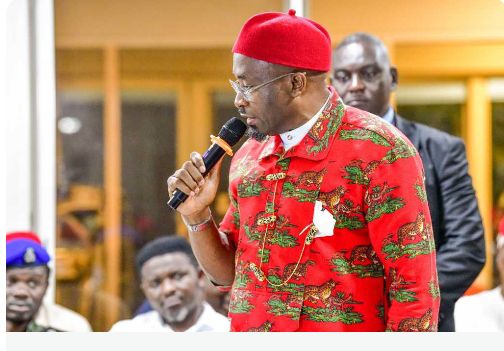 …calls for collective efforts to end menace
By Linda Ike
The Deputy Speaker of the House of Representatives, Hon. Benjamin Kalu said South East region has lost about N4 trillion to the sit-at-home problem within the last two years.
Kalu said the situation observed every Monday in the region with the five states of Abia, Anambra, Ebony, Enugu, and Imo has crippled businesses and also stifled opportunities for economic growth.
He spoke in a keynote address delivered at the "All Markets Conference 2023" with the theme: "Catalysing Partnership with Traders through Innovation, Technology, Analytics & Sustainability" Monday, in Lagos,
The Deputy Speaker said the situation had forced potential investors out of the southeast, calling for a collective efforts by all Igbo sons and daughters to end the menace.
He said, "The existential threat to Igbo entrepreneurship and businesses now is the insecurity and sit-at-home problem in the south-east.
"The mutation of this problem is largely unfathomable. It is becoming a cankerworm that is eating
deep into our collective fortune as a people. We have to rise up to nip the
problem in the bud. The first wave of the migration of Igbo businesses post-civil war was in the late 1980s and the 1990s, when, due to incessant kidnappings, thievery and a rise in occultism, Igbo businesses domiciled in Igboland moved
en masse to other parts of Nigeria and the west & central African region to
thrive.
"We are currently witnessing the second wave of such migration of
Igbos businesses, this time around, due to the insecurity and the sit-at-home problem in our beloved region. Ummunnem, this is not us. We are not known for these. If I do not tell you these truths as your son, then it will be difficult for anyone in governance from Ala-Igbo to tell you. I am pained by what our dear land has become. We have to be honest and sincere with ourselves. In conclusion, I make a heartfelt plea to each and every one of you.
"We cannot afford to retreat from our business endeavors. The stay-at-home
order on Mondays has resulted in staggering losses of 4 trillion Naira in the
last two years in the Southeast alone according to statistical data. This is also affecting the businesses of our
brothers across Nigeria especially in the supply-chain. We must find lasting
solutions to the security challenges in Igboland, addressing them collectively with innovative strategies. My brothers and my sisters. We must think and think again!"
Kalu also called for the revival of Igbo apprenticeship system, a time tested practice which he said had produced successful business men and women, stressing that it should not be allowed to go into extinction.
He assured to work with other Lawmakers from the Southeast in the National Assembly commitedly for the task of reinvigorating the zone.
"I want to draw your attention to a remarkable aspect of our economic
history—the "Igba-Boi" Apprenticeship System otherwise called the Igbo
Apprenticeship system by Business and Economics experts worldwide. This time-honored tradition has played a pivotal role in the growth of capital formation in Igboland, especially during the challenging post-civil war recovery period.
"Today, it stands as a shining example of excellent venture capital in the world. However, let us pause for a moment and ask ourselves a rhetorical
question: How many of us in this conference still have apprentices?
Perhaps a few. As we reflect on this, we must acknowledge that the "Igba-Boi" apprenticeship system is going into extinction, but we must be innovative in our approach to revive and sustain it. We cannot afford to let this invaluable heritage fade away, for it carries the seeds of our future prosperity.