Reps Issue Warrant of Arrest on Haruna Kolo over Job Racketeering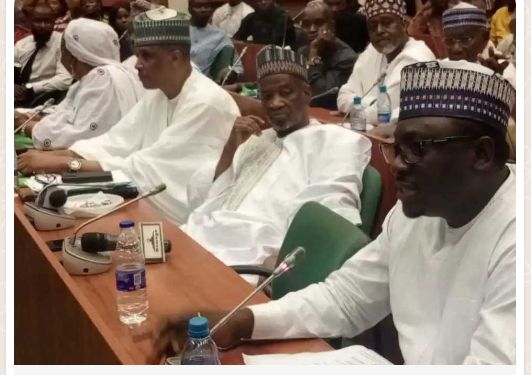 By Linda Ike
The House of Representatives Ad hoc Committee probing job racketeering in agencies of the Federal Government on Thursday issued a warrant of arrest on Haruna Kolo, a staff of the Asset Management Company of Nigeria (AMCON).
Kolo, an ex-staff of the Federal Character Commission (FCC) had appeared before the Committee on Monday over allegations that he was involved in selling slots for employment in collusion with the Chairman of the Commission, Muheeba Dankaka.
He expressed fear for his safety as he said the FCC Chairman should be held responsible if anything happens to him.
But he has however failed to honour the invitation of the Committee to appear in subsequent hearings on Tuesday and Wednesday.
Also AMCON failed to turn up for the probe despite invitations to them.
As the hearing resumed on Thursday, the Committee's Chairman, Hon Yusuf Gagdi, said a warrant of arrest would be issued against Kolo, stating that if he does not show up for the probe, he would be brought in by the security agencies.
Gagdi also frowned at some government agencies who have refused to honour the committee's invitation for probe.
He said there would be sanctions henceforth for any agency that fails to appear before the committee.
He said, "We have made our position very clear and we have resolved to further communicate through newspaper communications today and tomorrow for these agencies to make sure they have cause appearance before this committee. And we are going to make our position very public in various dailies and televisions stations beginning from tomorrow giving agencies the last warning that they should appear before this committee on Monday unfailingly from Monday to Friday. All our witnesses that we have equally asked them to be here are going to appear before us on Monday and Tuesday in continuation to this hearing.
"Yesterday we asked Haruna Kolo to be here and some other personalities. Are they here? They are not. I think agencies would begin to see the other side of this committee from Monday by the special grace of God. We are going to rewrite, we will make newspaper publications, we are going to make television announcements, so that we see if they do not watch TV or they do not read newspapers, if they claim that letters from this committee have not reached them. We should do just that and give them the benefit of the doubt.
"We are people's representatives. So we would not be in a hurry to take any decision. For Haruna Kolo, the position of this committee is that he would lose his freedom. We will issue a warrant of arrest in respect of Haruna Kolo and compel security agencies to present him before this committee at any given period if he is so arrested. So this committee would communicate officially to the various security agencies and to AMCON in addition to communication that we have sent to them yesterday for Haruna Kolo to be presented here unfailingly by either the security agencies or by AMCON themselves. And the committee to approve that warrant of arrest would be issued in respect of Haruna Kolo."
The hearing was adjourned abruptly to Monday as government agencies expected failed to show up.