Job Racketeering: IPPIS Desk Officer, Kolo Admits Collecting Money for FCC Chairman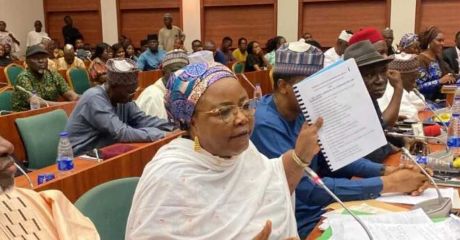 By Linda Ike
The IPPIS desk officer of the Federal Character Commission (FCC), Haruna Kolo who is the main protagonist in the ongoing job racketeering scandal ricking the commission has implicated the Executive Chairman of FCC , Muheeda Dankaka as being the brain behind the fraud.
Kolo, also the former protocol officer to the chairman, FCC who suddenly appeared yesterday before the House of Representatives Ad-hoc Committee, investigating job racketeering and gross mismanagement of the Integrated Payroll and Personnel Information System (IPPIS) in Nigeria told the lawmakers that he had being collecting between N1 million to N1.5 million for the chairman from individual applicants when he was working in the commission.
He said: "The FCC Chairman instructed me to liaise with one Mr Shehu who is a personal driver and PA to the Taraba state commissioner. As a desk officer, am responsible to take whoever is employed to IPPIS for capturing, no one can go there without a letter from the Chairman or Human Resource officer of FCC.
"Shehu is the one that brought those who paid monies to my account for job, some paid 1million others 1.5 million all to my personal account my Eco bank account. She asked me to give cash to her which I did through POS so there is not evidence of transfer or anything.
Responding, Dankaka denied collecting money from Kolo or instructed him to collect money on her behalf.
She said, "I swear with Almighty God I am with this Qu'ran. Thank God the Secretary brought this Qu'ran. If I ever collect one naira from this Kolo, may almighty destroy what I worked for. If I have ever in my life asked him to go and collect one naira from anybody, with Qu'ran let it be destroyed."
Chairman of the Ad-hoc Committee,Yusuf Gagdi asked the Federal Character Commission (FCC) not to address journalists about the probe until it is completed.
Gagdi said, "No commissioner should address the press. Don't preempt our investigation. Federal Character please allow us to do justice, including the Chairman, Secretary, nobody from Federal Character should address the press on the pending investigation."
He said the Committee will not allow taxpayers money to be embezzled but it will also be very careful in indicting people as other actors wanted.
"I said in the speech I read, I didn't see relationship between selling this and selling that. I was very clear. I know why we were asking Kolo to give us evidence and we know why we were deferring this sitting for other witnesses that are alleged to have had financial dealings with Federal Character.
"Kolo appear here tomorrow. We are calling the other witnesses. We will allow you to do your work.
Whosever that is found wanting will answer his father's name, including Kolo Haruna. Kolo, I am not saying anything will happen to you but by law you are not supposed to leave here without being arrested.
"For a civil servant that has thirty something million in his account that admitted publicly that you are serving as a front to aid corruption. So I am quiet, I think and I don't want to take you up on that because we don't want to be seen to be sentimental," Gagdi stated.