Kalu Advocates Greater Economic Partnerships, Free Movement Across Africa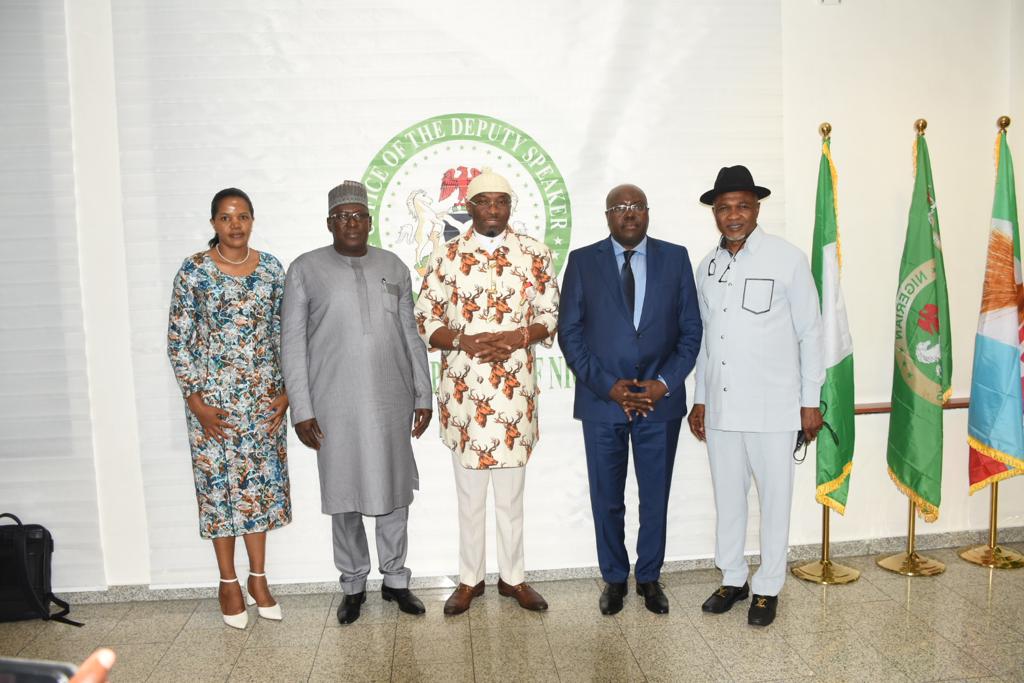 By Linda Ike
Deputy Speaker of the House of Representatives, Hon. Benjamin Kalu has called for greater economic partnerships and co-operation amongst the 54 Africa countries.
Kalu also seek the removal of the artificial boundaries that impede free movement of people and goods in African regions.
He made the call, Thursday, when he received the Speaker of East Africa Legislative Assembly, Hon. Joseph Ntakirutimana who paid him a courtesy visit in company of the Speaker of the Economic Community of West African States (ECOWAS) parliament, Hon. SidieTunis and a member of Tanzania parliament, Hon. Mlozi Shogo Richard.
Kalu urged parliaments of various countries in Africa to review their laws impeding economic growth and free movement of people.
He also condemned the xenophobic attacks in some parts of Africa, saying that it stalls unity and progress.
He said: "If you're part of African Union, why the boundaries, why the restrictions? The restrictions have underdeveloped the continent more than it has lifted it to measure shoulder to shoulder among the committee of continents. These we must take seriously and this message we must take to all our countries' parliaments for a review of our various positions on this issue.
"I'm happy to announce that the President of the Federal Republic of Nigeria, Bola Tinubu, has been made chairman of ECOWAS, we will give all the support that's expected to make him succeed in his tenure as the Chairman of ECOWAS and that includes the parliament.
"The speaker of ECOWAS expressed in his speech the need to retool the ECOWAS parliament. We need to review the mechanism used so far by our nations interest in the parliament. We need to revisit that so that we can stimulate more interest and more motivation that will no longer stall the speed of ECOWAS parliament, towards realizing the continental objective of setting up the ECOWAS parliament.
"We are all one people and we must take steps to reinforce that
unity. With unity, we can deal with present challenges which
manifest in transnational violence, coup threats in some sub-Saharan African countries, slowing economic growth, climate change, and human trafficking especially in Sahelian Africa. We
must not allow this to fester in the near future.
"After the Berlin Conference that started in 1884 and ended in 1885,
Africa has never been the same especially due to the artificial
boundaries and the negative consequences of colonialism meted
on the continent. We in Africa are at a precarious time to correct these defects and consequences of that conference. The artificial boundaries created have become impediments to the needed pan-African cooperation, trade and growth for Africa's development.
"The commencement of The African Continental Free Trade Area
(AfCFTA) is a step in the right direction. There is no reason why Africans should not trade and travel freely within Africa as is the case for Europeans in the European Union.
"Pan-African parliamentary organizations must encourage the people and work collectively towards one purpose. They must take deliberate steps to work on immigration laws and trade laws
so as to encourage free trade and movement.This will ultimately lead to closer ties and the fulfillment of intra-
African trade.
"This has held Africans down, to fight fellow Africans. Let's be free in East Africa, just like East Africans are free in Nigeria, West Africa."
Kalu also said that the Nigerian House of Representatives will support the candidacy of Dr. Tulia Ackson for the President of Inter-parliamentary Union (IPU), asking to make her manifesto known to lawmakers.
"We are one people. We must not allow division to fester in the near future. I don't know whether this is part of the dreams of the speaker of Tanzania who wants to be the President of the IPU. These are dear to our hearts, we will encourage when you go back to inform her. We need to get to know more about her manifesto, what she's taking to Inter-parliamentary union. The need to engage the biggest parliament in Africa cannot be over emphasized, we don't want to be recorded as those who didn't support one of our own but we need to understand her vision to the IPU."
Earlier, the speaker of ECOWAS parliament, Tunis emphasized the need for Africa's integration.
He also hailed Nigeria for her contributions to ECOWAS.
"He said, "As you know, ECOWAS generally is about integration. To integrate our people considering free movement of people and goods.
"We believe that, in Africa, for all of us to come together, the various regional bodies must be in the position to work together to support their trade union.
"Nigeria is the country that is leading the region. Like I told the Speaker of EALA in my office today, Nigeria in ECOWAS is like United States in UN. The bulk of our budgetary support comes from Nigeria. That's why we don't allow them to even get upset. When they get upset, we will begin to catch cold."
In her remark, the member of Tanzania parliament, Hon Richard appealed to Nigerian parliament to support Ackson for IPU presidency.