Sit-at-home, unknown gun men foreign to Igbo land – Kalu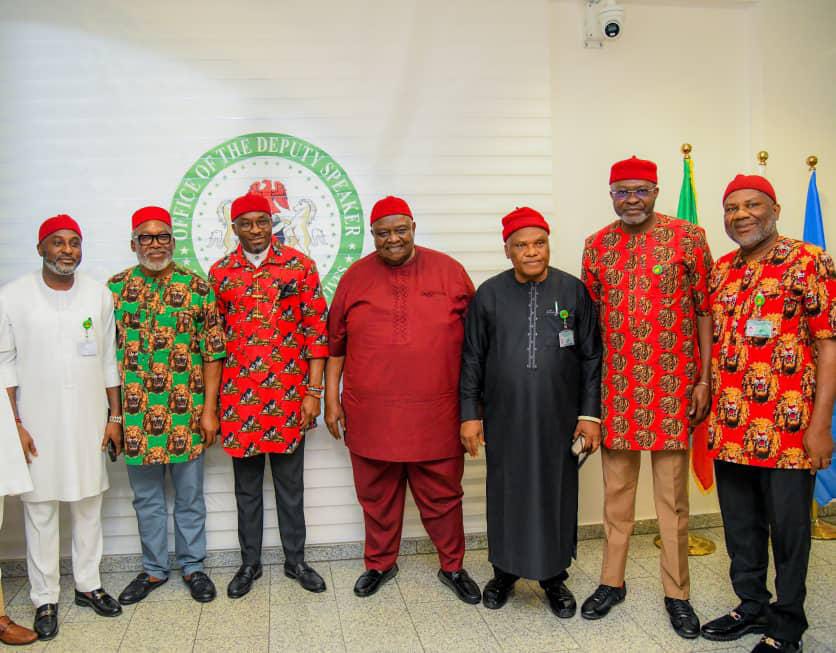 ..unveils PISE project for restoration of security, peace
…as Ohanaeze Ndigbo PG calls for unconditional release of Nnamdi Kanu
By Linda Ike
Deputy Speaker of the House of Representatives, Hon. Benjamin Kalu, Friday, said observance of sit-at-home, unknown gunmen and other social vices are alien and abhorrent to Igboland socially, economically and culturally.
He revealed that his office has unveiled a mechanism that will ultimately end insecurity in the south east and restore normalcy in the economic and social life of Ndigbo.
Unveiling the mechanism as Peace In The South East (PISE) project, Kalu said that soon his office in agreement with all the lawmakers from the region irrespective of the political parties will reach out the State governors and other critical stakeholders for the launch and implementation of the project.
He also said that the project will feature a regional security integration and political leadership that will streamline an agenda for the promotion of Igbo cause and growth in terms of infrastructure.
Kalu who made the revelations during a courtesy call on him by the national leadership of Ohanaeze Ndigbo, the apex socio-cultural group led by its President General, Chief Emmanuel Iwuanyanwu bemoaned the insecurity in the south east.
He added that the sit-at-home observed in the region every Monday has crippled businesses and left the region empty.
Kalu who vehemently objected to the sit-at-home order stated that Ndigbo must extend their handshakes across the federation to restore confidence.
He said: "Let me also state that, in our pursuit for these noble objectives, it is imperative that we draw a clear distinction between a legitimate call for justice, equity and fairness against criminal activities. There is a difference between the two of them.
"Criminal activities cannot be taken to mean legitimate call. Secession is not a legitimate call. We want to remain as one Nigeria!
"It is a distinction that our people must be able to make. And together we must ensure that the line is firmly drawn. Igbo Community has always been in the forefront of nation building and positive change. Go to any part of Nigeria, if you don't see an Igbo man there, it means that place is not progressing, it means that place is not prosperous. We are everywhere, nobody is as patriotic as the Igbo man.
"I'm here today, not just as the representative of the people of Bende, but as a representative of all Nigerians. The House of Representatives is actually named the House of the People for a reason.
"I want to report to you as the father of Igbo land that, I have a good relationship between me and this North Westerner, who is the Speaker. He does not discriminate, he does not undermine me, he sees the potentials and we are working together like twins to help Nigeria in the House of Representatives.
"With him, we will ensure that there is justice, with him, we will ensure that there is fairness, with him, we will ensure that there is equity to all, including the Igbos.
"We are not known for self destruction that is evident in the idea of sit-at-home or unknown gun men.
"It is not our thing. It is alien to us. We don't kill one another. We love our trade, we love our farms. We don't sit at home.
"Sitting at home is for lazy people. Igbo people are not lazy people. Those in support of sit-at-home are not Igbos.
"There is no true son of the soil of Igbo land that would support laziness and call it a strategy for secession. If you sit at home, you are a lazy man. Igbos are not known to be lazy. We are industrious, we are entrepreneurs, we work hard to succeed.
"The tradition of collective action and communalism has been a hallmark of the Igbo people throughout history, from building schools and hospitals to markets and farms. We are not known for self-destruction that is evident in the idea of "sit-at-home" or unknown gunmen. These tendencies are alien and abhorrent to how the Igbos are constituted; socially, culturally, and economically.
"In addressing our present challenges, we have the opportunity to draw on the things that pull us together. We may have different political platforms, but we must realize that the commonwealth and common good are ultimately the same. Onye aghana nwanne ya", he said.
Earlier in his presentation, the President-General of the Ohanaeze Ndigbo Worldwide, Chief Emmanuel Iwuanyanwu called for the release of the leader of defunct Indigenous Peoples of Biafra (IPOB), Mazi Nnamdi Kanu, saying it will help restore peace in the South East.
"Ohaneze has decided that we want Nnamdi Kanu released. We think that every effort should be made to release Nnamdi Kanu. If he's released, it's going to make it easy for us", he said.
Iwuanyanwu highlighted some of the proposed projects of the apex socio-cultural to include inter-state rail, airports amongst other projects.