Tinubu Reiterates Support to Fight Against Illicit Drugs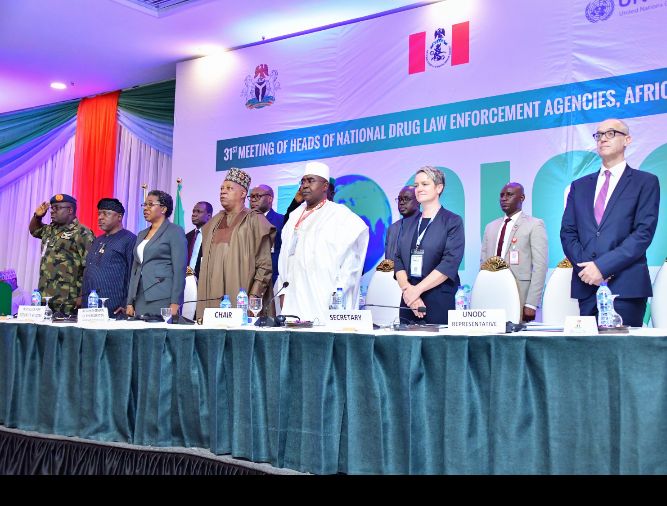 By Linda Ike
President Bola Tinubu has implored Heads of National Drug Law Enforcement Agencies, Africa (HONLAF) to renew the fight against substance abuse and illicit drug trafficking in their countries.
Tinubu gave the charge while declaring open the 31st meeting of Heads of National Drug Law Enforcement Agencies, Africa, HONLAF, on Tuesday, in Abuja.
He warned that the African continent would remain in chains till it breaks free from the shackles of the criminal enterprises of drug barons and syndicates of illicit drugs
The President who was represented by
Vice President Kashim Shettima noted that in the last couple of decades, criminal organisations had made frantic efforts to breach the security measures in African countries to pollute the minds of their citizens.
He observed that Africa was "at the mercy of a threat that knows neither race nor geography, neither gender nor social class".
He reiterated his administration's commitment to fight illicit trade and to continue to provide necessary support and tools for the National Drugs Law Enforcement Agency, NDLEA, to fulfil its mandate in Nigeria.
Tinubu enjoined the heads of drug law enforcement agencies to consider the conference in Abuja as a ray of hope and a catalyst for positive change across the continent and to also make trafficking of illicit drugs and movement of drug syndicates difficult in the African continent.
He said, "illicit drug threat has crossed borders and destroyed societies and dreams. Without the moral commitment of the men and women in this room, this threat would have left cities, countries, and even civilizations erased. So, I must commend you for your sacrifices in the bids to keep our world drug-free, sane and safe.
"This administration will continue to provide the necessary support, motivation, and tools for the NDLEA to fulfill its mandate.
According to him, "For us, the commitment to the fight against drug trafficking and substance abuse is not just a matter of policy; it is a moral imperative.
"We recognize that a population at war with drugs is not a dividend but a liability.
We believe that the future of our youth, the strength of our institutions, and the well-being of our communities depend on our ability to eradicate this threat.
Chairman/Chief Executive Officer of NDLEA, Brig. Gen. Mohamed Buba Marwa charged his counterparts across the continent to strengthen operational networks and raise the bar in the drug war.
Marwa restated the stakeholders' commitment to addressing the world's drug problem, noting that Nigeria will continue to uphold the objectives of multilateral organizations dedicated to combating drug trafficking and related crimes.
He said, "Drug use disorders are harming health, including mental health, safety and well-being, while the harms caused by drug trafficking and illicit drug economies are contributing to many of these threats, from instability and violence to environmental devastation.
"The world drug problem, in all its forms and manifestations, affects all of us. The stakes are especially high for Africa. No one country can tackle a problem of this magnitude alone; just as well, the world drug problem cannot be tackled solely through international policymaking; it also requires effective implementation and collaboration among practitioners."
In his remarks, Attorney General of the Federation and Minister of Justice, Lateef Fagbemi who was represented by the Director, International Criminal Justice Cooperation, Federal Ministry of Justice, Mrs. Nkiruka Jones-Nebo said "It is imperative that this conference remains proactive in addressing the legal complexities that may impede seamless cooperation in intelligence sharing, joint operations, and training. These barriers must be dismantled to prevent any loopholes that could potentially facilitate the activities of drug cartels operating across our borders. The Federal Ministry of Justice stands committed to providing unwavering support and efficient systems to empower NDLEA in its mission."
The Country Representative of the United Nations Office on Drugs and Crime, UNODC, Oliver Stolpe said the drug problem has changed from what it used to be 20 years ago. "Today, the picture is different, local consumption is increasing, and increasingly problematic. We need a balanced approach to supply and demand reduction. We need to invest in prevention and in treatment. And, we need alternatives to imprisonment for drug users that are more effective and help decongesting prisons. At the same time, we need to strengthen cooperation between countries along drug trafficking routes with the aim of dismantling the ever more sophisticated trafficking networks", he stated.