Members Of 10TH National Assembly Hold Inaugural Meeting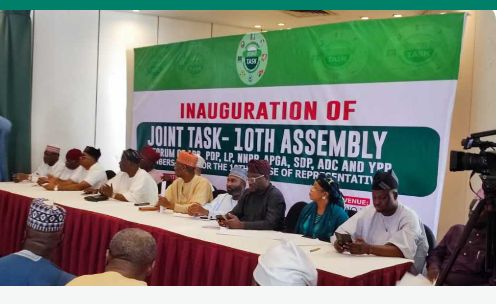 …Vow Not To Be Used As 'Rubber Stamp'
By Linda Ike
The Lawmakers-elect in the House of Representatives have affirmed their commitment to defend the sanctity of the.parliament and promote independence of the legislature in the 10th Assembly.
This was disclosed by Hon. Usman Bello Kumo on Tuesday at the inauguration of the Joint – Task 10th Assembly forum in Abuja.
The members of the forum are drawn form the eight political parties across the country, chaired by Hon.
Usman Kumo (APC) Gombe state, while Kingsley Chinda (PDP) Rivers is the co-chairman.
Kumo said the essence of the joint task 10th Assembly is to ensure that the Legislature work independently without interference from other arms of government, ensure equity, fairness and balance in the emergence of the leadership of the House.
He stated that the driving force of the forum is the unity of Nigeria, adding that the forum has decided to go by the zoning decision of the ruling APC, and.take into cognisance character, integrity, qualifications of candidates
in the race for Speaker of the 10th National Assembly and other principal positions.
He said: "We vowed to provide maturity in the conduct and responsibilities of the 10th House.
"We are not promoting the interest of any particular candidate and we are not fighting any candidate".
The Secretary of the Forum, Hon. Aliyu Madaki said the essence of the group is to have a cordial working relationship with the executive.
Madaki assured that the 10th House is not going to be a 'Rubber Stamp' but will carry out their duties according to the proceedings and rules of the House.
He reiterated that the 10th House of Representatives will be for the Nigerian people.