Atiku Expounds Why He Wants Tinubu Certificates Exposed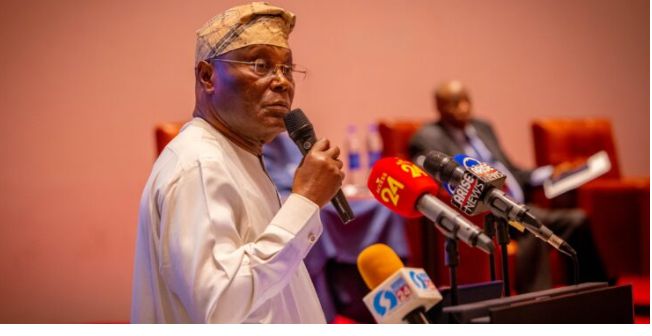 By Linda Ike
Peoples Democratic Party (PDP) 2023 presidential candidate, Atiku Abubakar, has implored Peter Obi and Rabiu Kwankwaso, presidential candidates of Labour Party (LP) and New Nigerian Peoples Party (NNPP), respectively, and other well meaning Nigerians to join him in the campaign to enshrine probity, accountability and the basic principles of justice, morality and uprightness in Nigeria's government.
Atiku made the call on Thursday at a press briefing in Abuja.
He said that his quest to contest President Bola Tinubu education qualifications is to ensure that morality in public affairs is enthroned.
Atiku is contesting the eligibility of President Tinubu to contest the 2023 presidential poll.
It will recall that recently, the Chicago State University (CSU), based on the order of a United States Court delivered to him Tinubu's educational certificates.
He said, "Our elections are established and governed by law and founded on the constitution from which leadership and government in Nigeria alone derive their legitimacy.
"The people look up to us as leaders to respect these rules and, where necessary, to defend them. This is what brings us here. Today, we are called upon again as a people to uphold and defend the ground rules of elective government in our country. The constitution prescribes the requirements for those who seek the highest elective office in the land.
"It should not take months or, indeed, decades, for the institutions concerned to be able to do their work in establishing the credibility of any certificates presented by candidates for public office.
"We undertook this journey at great cost and for important reasons. The ground rules for legitimate governance in our country need to be upheld, and the reputation of our country is at stake. That affects everyone, Nigerians everywhere."
Atiku further commended an independent journalist, David Hundeyin whose extraordinary work has become a source of inspiration, and millions of Nigerian youths and citizen journalists who contribute to put out truth online even when no one is listening.
"They have put the country first in their firm commitment to unravel the truth and hold leaders accountable. This gives me the hope that we have worthy partners in the struggle to reclaim the country we call home." The former Vice President stated.
Atiku also stated that he does not owe president Tinubu anything, contrary to insinuations that he betrayed President Tinubu.